Description
Let's travel to Venus, the planet of love, wealth and attraction! Join The AstroTwins, astrologers for ELLE, to explore the imprint of Venus and learn how to work with its unique zodiac sign and house placement in your chart.
In this course you'll learn:
• How to find Venus in your chart
• What the zodiac sign & house placement of every Venus sign means
• Your seduction style, what attracts you & how you like to be wooed
• Why your yearly Venus return gifts you a month of peak manifesting
• How you spend money, what you value and your idea of "abundance"
• Venus sign tips for home decor, personal style and entertaining
• How to survive Venus retrograde every 18 months

Plus, bonus activities that will help you use Venus as an icebreaker and networking tool, to restore your glow and to discover key facets of your nature.
Ready to tap into the magic of your Venus sign and unleash its powers? Learn what your Venus sign and house say about…
Your romantic desires and your social style.
Are you a shameless flirt or an unapologetic introvert? Do you prefer a slow-burning courtship or are you the type who would race to a Vegas chapel on the fifth date? Understanding your Venus sign can help you find your way to a partner who is divinely suited to your romantic needs.
Your personal style and aesthetic.
The energy of your Venus sign can also say a lot about your personal style and aesthetic. What are you attracted to…and what do you attract?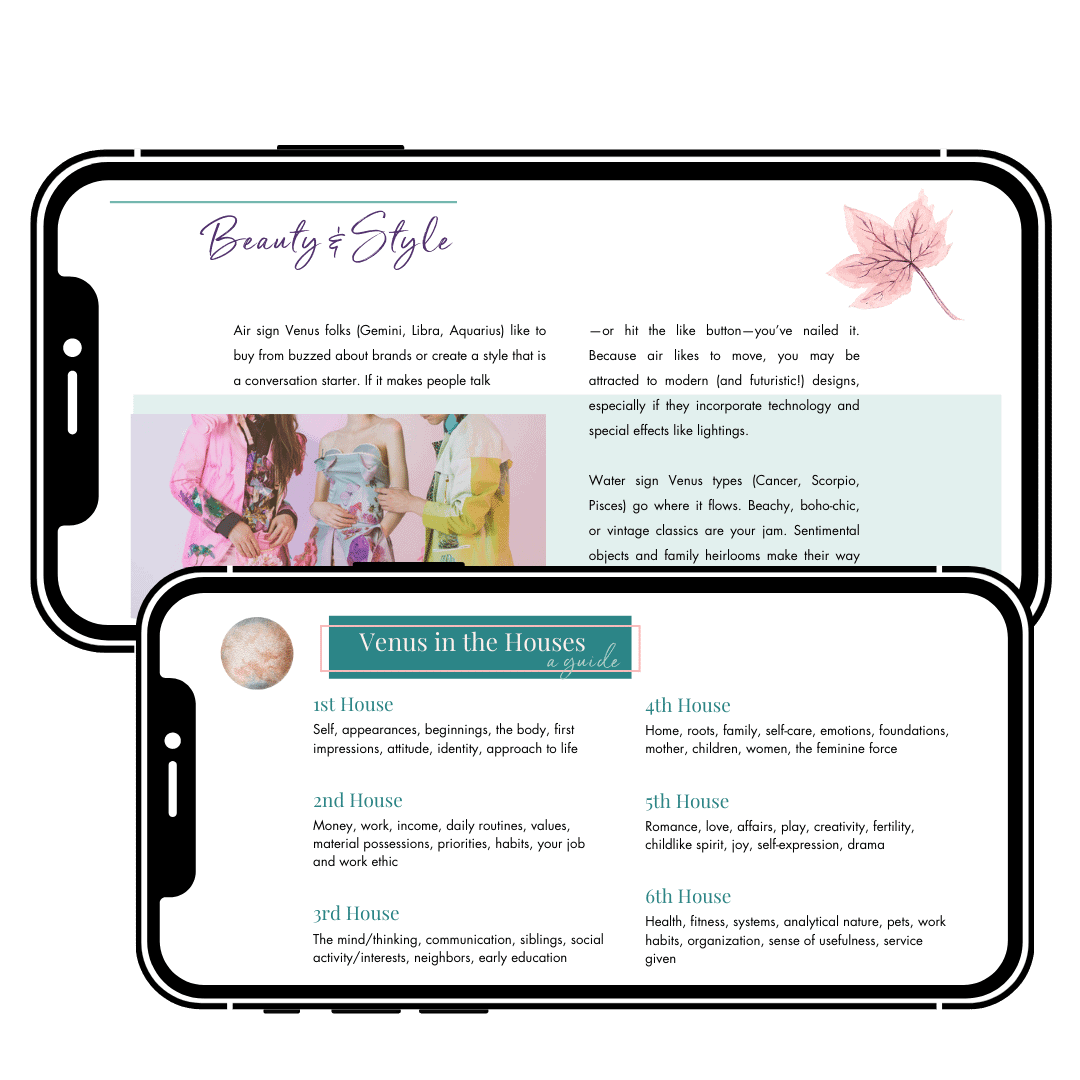 Your wealth + capacity to attract prosperity.
Magnetic Venus is one of the "money planets," and activating your Venus sign can draw abundance through your network and natural charms.
Your values.
Venus governs your values as well as the things you value—the kind of people you like, the possessions you're drawn to, the ambience that feels most comfortable for you.
Unlock your Venus powers and let the manifesting magic begin!