"Give this to your horoscope-obsessed BFF and she will flip her lid." — Yahoo! News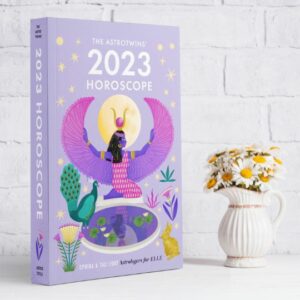 What does your 2023 Horoscope advise about your relationships, money, career and health? Plan your entire year by the planets with the #1 bestselling yearly astrology guide from The AstroTwins, astrologers for ELLE Magazine.
From love to money and career to health and happiness, The AstroTwins deliver their spot-on and eerily accurate forecasts for every sign zodiac sign, guiding you through your 2023 astrology forecast from January to December. 
From the astrologers who predicted 2020's black swan event and 2021's cryptocurrency revolution comes The AstroTwins' 2023 Horoscope, your must-have guide to aligning your destiny to the stars. No matter the circumstances, you'll always feel prepared with the 2023 Horoscope guiding your moves and helping you stay ahead of every cosmic curveball.

Inside you'll find:
In-depth astrology forecasts for every zodiac sign
Love, career, money, health and more advice for the entire year
The 2023 global astrology outlook for major changes to the economy, politics and world health
What every single planet is doing in 2023 — and how to make the most of it!
Monthly Hotspot Dates to plan it by the planets!
Retrogrades, eclipses, new & full moons—plus major planetary movements that will shape the entire year (and decade)
Year of the Water Rabbit—Your 2023 Lunar Chinese Astrology report
Numerology for 2023—what the 7 Universal Year holds for you